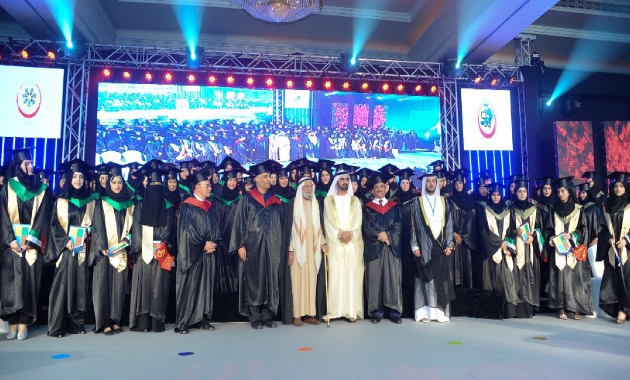 Dubai Pharmacy College for Girls (DPCG) envisions to serve the healthcare community by nurturing competent and professional pharmacists while promoting a learning environment that fosters innovation, leadership, continued professional development and quality assurance thereby making DPCG one of the leading institutions for the Pharmacy education in the world.
Students who learn Pharmacy can assume an integrated and accountable role in the practice model by having defined responsibilities for patient care. With this in view Dubai Pharmacy College for Girls was established in 1992.
The first Pharmacy College in the Gulf region is exclusively dedicated to educating aspiring girls in the field of pharmacy sciences which is accredited by the Commission of Academic Accreditation (CAA), Ministry of Education, Higher Education Affairs, UAE. The beginning of a long journey to excellence and continued development was set forth by the astute visionary Haj Saeed Bin Ahmed Al Lootah under the leadership of Prof. Dr. Saeed Ahmed Khan.
The dynamic campus provides an opportunity to gain well-rounded education in an international environment by highly qualified faculty of different nationality. DPCG faculty members are among the top scientists listed in the UAE "AD Scientific Index 2022".
The institution is committed to provide accredited pharmacy education at undergraduate and graduate level to female students based on professional values, advancement of pharmaceutical knowledge through research and community service to serve pharmacy profession, scientific community and public. More than 1000 students were admitted from over 30 countries world-wide.
DPCG is undergoing the process of attaining international accreditation status by Accreditation Council for Pharmacy Education's (ACPE's) and was awarded Provisional Certification (Category1 and 2) for the Bachelor of Pharmacy Program in January 2022.
DPCG provides state-of-the-art educational support facilities to its students. The facilities include and is not limited to:
Central Library
Recreational Facilities
Student Counseling Services
Healthcare Facilities
Mosques
Laboratory & Instrumentation Facilities
Accommodation Facilities
Transportation Facilities
Computer Lab
Dining Services